One Year Earlier
John, having miraculously escaped death when he missed the Moonglow at Cromarty, was advised that there was the possibility of catching another ship at Greenock which was sailing to Toronto in a week. He made his way to Fort William, and waited two days for a boat going to Greenock. He arrived within hours of the departure of the Highland Fling, a brig which had been used to transport slaves to Virginia, and was able to arrange a passage on board. He was shocked by the abominable conditions on board. They were not much better than on slave ships in which men had been forcibly taken across the Atlantic Ocean to become the possession of ruthless tobacco and cotton planters. It was only his good heath and his optimistic and cheerful outlook which made the rough crossing bearable. Many people on the Highland Fling were unable to finish the gruelling journey, and ended up at the bottom of the Ocean for a variety of reasons, including cholera and accidents.
On board, in spite of his own precarious situation, he was always ready to help those passengers who were suffering even more than himself. The sleeping arrangements were such that he would have been able to catch half a night's sleep each night by taking turns, but John was sometimes reluctant to wake up the men who were expected to make room for him. People did not fail to notice this, and he was much appreciated for his selflessness.
He eventually arrived in Toronto, and got casual work at the port, earning very little, and often sleeping rough or in crowded hostels. It was there that he met a man who told him about Captain Paul Cobjohn who had just bought land in Oxenham near the Rice Lake. He was told that the Captain had served in India, had been sent back to England after he had contracted malaria and was allowed to buy land in Canada at the preferential rate accorded to ex-officers. He had bought some potential prime farm land, effectively pine forests, for next to nothing, and was engaged in a massive project of forest clearance and building. John was told that the Captain had been looking for responsible people to supervise and work with the Ojibwa Indians who were engaged in a variety of work, but that the moment new immigrants landed they were snapped up by the established settlers. It had not been John's experience that any snapping was happening anywhere, and he thought that he would try his luck there. He liked the idea of Oxenham, secluded and situated near a smallish lake with rivers and lush rolling plains.
The people at the port where he was employed tried to keep him there, and urged him to come back to Toronto if his trip was unsuccessful. He embarked on a boat to Port Hope, and there, he was able to get on a coach going towards Peterborough. He got off at a point where he was told that there would be a steamboat on the Otanabee river heading for Oxenham. This was a regular service, but sometimes, owing to the shallowness of the river in some areas, in some seasons, the river became difficult if not unnavigable. The company therefore usually arranged that at some chosen point, the passengers would transfer onto scows which could cope with the shallowness, for the rest of the trip.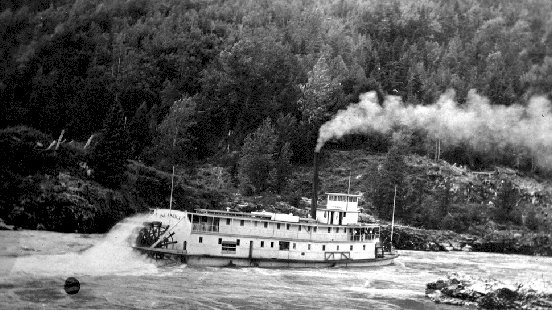 Photo Credit: From British Columbia Archives (Public Domain)
The steamboat, however, ran aground at a short distance from where the transfer was supposed to take place. Everybody was panicking, unsure of what the arrangements were going to be. The captain explained that everybody, men women and children had to leave the steamer with their belongings, and wade across to the shore, then walk two or three miles across the shore to where the flat boats would be waiting. The able-bodied men and women would have little difficulty doing this, but there were the extra problems of the children and the possessions. John was the first one who said that as he had no possessions, he would be happy to take care of a couple of children. He got hold of a little girl called Emily, put her on his shoulder, grabbed a boy by the hand, and started wading towards the shore, where he deposited them into the care of a couple who had arrived on the shore at the same time. He went back for more children but his good example had been followed by others and they were all taken care of. He went to assist some elderly folks negotiating the uneven terrain to the shore. He then helped with trunks and bundles, and this part of the transfer went very well, mainly because of his goodwill and organisational skills. The party finally reached the safety of the flatboats.
He slept under the stars that night, and next morning, he made for the Cobjohn estate. To his surprise, he discovered that little Emily was none else than the five year old daughter of Captain Cobjohn. The latter having witnessed the young Highlander in action only the day before, and having been unable to thank him personally because of the bustle, received him with great friendliness. When he heard what he was after, he immediately offered him a position on the estate, in the certain knowledge that he was acquiring the services of a dependable young man. There was a log-house in which the family had managed to squeeze itself, but besides there was an unfinished log cabin, which the Captain offered to him.
From the beginning, he was treated very much like one of the family, specially as Emily had grown so very fond of him. The Captain was a bit on the taciturn side, but he was obviously well-disposed towards him. Mrs Eleanore Cobjohn said that John reminded her of her younger brother she had left behind in Stirlingshire, where he was studying law with a respectable firm of solicitors. The other member of the household was Felicity, the Captain's sixteen year old sister who had accompanied her brother to Canada. Both their parents being both dead, the older brother had become her guardian. From the very first time that she became aware of John, when the steamer ran aground, she had wished that she were a couple of years older, and the young Highlander not a common working man.
The Captain had a very clear idea of what he wanted to do at Bonnyrig, the name Eleanore had chosen for the property. He was going to clear an area of the forest, and simultaneously dig wells, build a drainage system for taking water from the lake to his plantations, and proceed with the extension of his house. The Ojibwas and Cayugas having realised that they could do nothing to reverse the tide of white men with guns, were keen to work for a big white man, as they had discovered that there were things which they had only been recently introduced to, which were nice to possess, and that you needed white man's money to buy them. They had a special fondness for mirrors. Their animal skins, which had served them so well since time immemorial, now seemed to them less attractive since they had come across coloured cotton and woollen materials. Inevitably, after tasting white man's liquor, they quickly developed a weakness for intoxication too.
Although John had no special training, it was assumed that if put in charge of a team of natives, he would know exactly how to deal with them and make sure that the work was done satisfactorily. He was a white man after all. Fortunately for the Cobjohns, John proved equal to the task, thus reinforcing the Captain's suspicions about the natural superiority of the white man.
Early on, Eleanore Cobjohn expressed a strong desire to be part of the development of Bonnyrig. Not only was she not averse to putting on a man's dungaree, a worker's cap and knee-high boots, she thoroughly relished the life in the open and the challenges of activities physical, axe or spade in hand. It took no more than a day — the first day — for everybody, including Emily, although she probably hindered more than she helped, to join forces to clear an area of about a quarter of an acre, specially chosen because of the maximum sunshine it benefited from, so the family could become self-sufficient in produce. To this effect, the captain and his wife had carefully chosen seeds of various vegetables and legumes, haricot beans, cabbage, peas, tomatoes, potatoes, carrots and lettuce, which they put in the ground with an almost religious fervour. As Scotsmen, they had a particular fondness for root vegetables, which meant that turnips, parsnips and swedes were not neglected. Already on the next day, Emily began asking why the tomatoes were not ready. It was an endearing sight to watch the little girl anxiously watering this big field with a small can, in the certainty that without her contribution, nothing would sprout.
Eleanore and John were often responsible for the execution of the captain's plan. Although the Cayugas and the Ojibwas had no serious problems with each other, Paul thought that at first, that it would be more politic to get teams from the same tribe working together on one specific project. The Cayugas seemed to like building, so they were out under the charge of the lady.
At first, she supervised the repair and extension work on the house, and as she had a very clear idea of what she wanted, this went on smoothly. Big Dan was a tall well-built man with a healthy tan, and he spoke one word at a time, but had a knack for making himself perfectly understood. His men had no fear of heights and with their cat-like agility, could walk up a vertical post as if they had spikes under their moccasins. For the six months that the building activity went on, not one serious accident took place. They seemed to understand what made a perfect wooden house, which was surprising since they had been used to living in wigwams. They worked efficiently with saws, and seemed to enjoy using them. The progress on the house was clearly visible at the end of each day. Eleanore was very proud of the work being done under her supervision. She often joined in the wood sawing or the hammering that had to be done, and Paul nearly had a fit once when he saw her precariously poised on a ladder, hammer in hand, a nail in her mouth, attaching a window on the second floor with obvious gusto. No amount of reasoning would persuade her to return to more sedentary activities.
John had the responsibility of the water works. First he had to dig the wells. This he did with the help of an Ojibwa man, Wahaitiya — he had been given a Christian name, Daniel, but as he made it a point not to respond to it, even the proud captain could do nothing, so Wahaitiya it was. He was a tall thin man with an emaciated face which made him look older than he was. He had humorous eyes, and was indeed something of a wag. He sauntered comically, rather than walked, his feet hardly touching the ground, the upper part of his body stooping forward slightly. He sometimes used a Y shaped stick, but he said that he could just as well detect the presence of the water by holding his hand over the spot. He had located a few places where water was plentiful, and after consultation with the captain, John chose three strategically placed spots. Wahaitiya's dousing work was done, but a man of many parts, his advice was sought on a number of issues. He knew about wood and seasoning, which was again surprising, as the Ojibwas had no tradition for using wood except in making bows and arrows and rudimentary furniture. He knew about herbs and their medicinal properties. He knew where to get the best lake rice and how to use it to feed his fellow Ojibwas.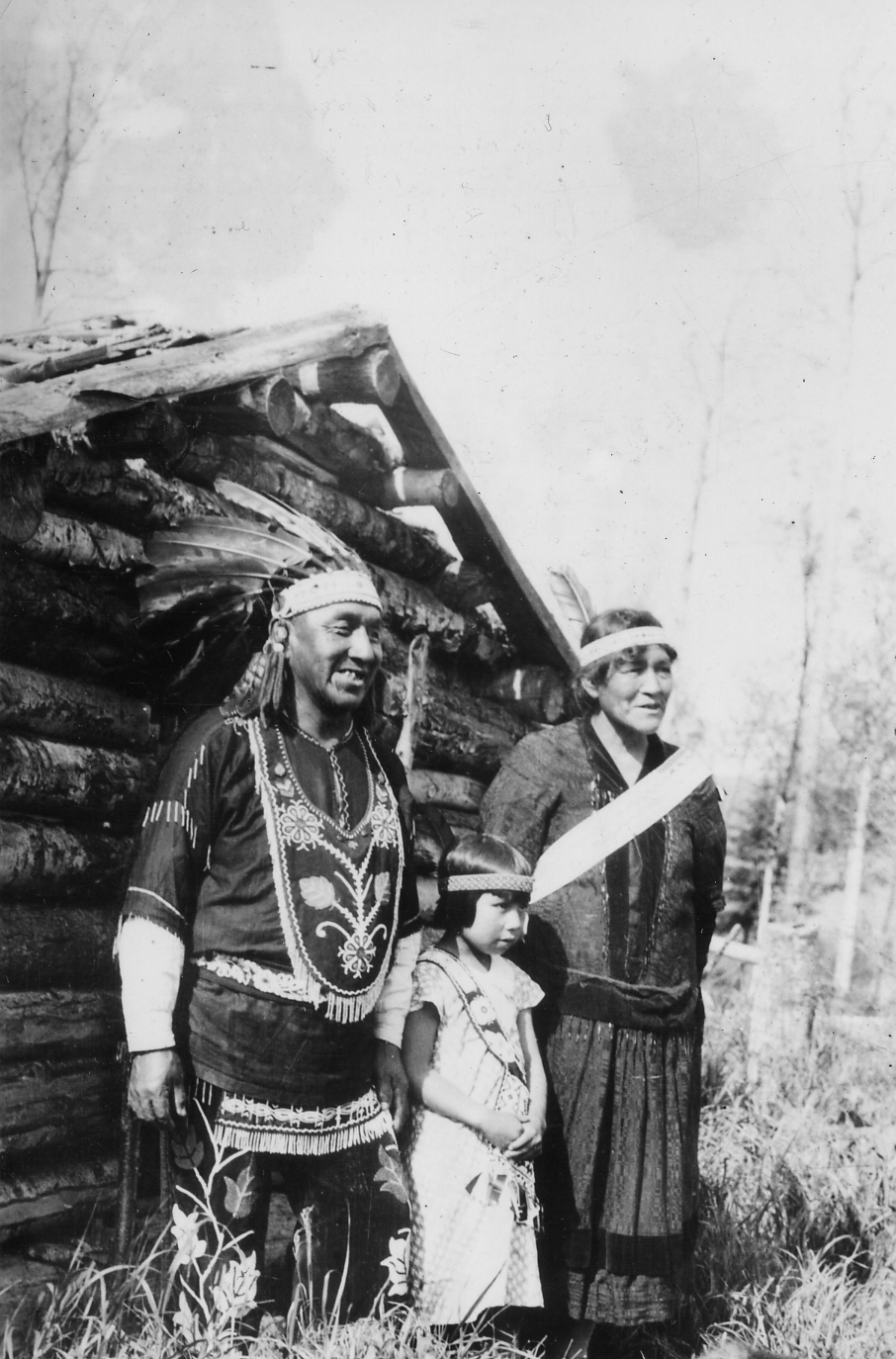 Photo Credit: Courtesy of Herald-Tribune Newspapers of Duluth, Minn (Public domain)
John had seen a picture of a lever being used to pull water out of shallow deposits when he was a child, and as the wells were hardly waist-deep near the shore of the lake, he designed and built systems based on his childhood memory of that picture, making drawing water child's play.
Meanwhile, the Captain was engaged in the forest clearing, and he had a team of ten Ojibwas working at one end of the area he planned to clear first, and a team of Cayugas working at the other end. He had not planned this, but he found that it was a stroke of luck, for a healthy competitive spirit grew out of this, fanning the progress of the work afoot, but surprisingly, no hostility.
Meanwhile, Felicity took care of Emily, and developed her latent skill at cooking and keeping house. The older girl did not have to be asked twice whenever Emily wanted to go see John at work. Often the two of them would seek him out and when they saw him digging or measuring, they would stop and watch him. John understood that Felicity was attracted to him, but thought that she was too young, and supposed that the aristocratic Cobjohns would not like one of theirs linked romantically to someone who grew up in a hovel in Strathnaver, and could just about write his name. But he imagined that in a year or two she might bloom into a very desirable young woman, and that he might then find her irresistible, which would make his position at Bonnyrig untenable. I am no romantic fool, he told himself, I am not going to allow a situation to develop, where I become attracted to a young woman only to find her swept off her feet by some toff in a plumed hat.
Clearing the forest was possibly the most arduous of the chores at hand. In the area being worked upon, there were hundreds of silver pines, spruce and hemlocks. These had not only to be felled, but the roots had to be extirpated as well. They were then defoliated, their branches lopped off before being conveyed to a specially designated area, from which they would then be taken to the lakeside where they would be loaded on scows bound for Peterborough, where only recently a sawmill had started operating. It took a couple of days for a load to be sawn into planks, half of which which were then taken back to Bonnyrig by the same route, to be used on the many construction projects now in course, the rest paid for handsomely by the sawmill.
Captain Cobjohn had a clear idea of what he wanted to cultivate, although he was less clear about who were going to buy his produce. The area was known to be ideal for the cultivation of fruit-trees, apples, pears, plums, berries, and so large chunks of land were set aside for these. Potatoes, carrots, turnips always come in handy, for personal consumption as well as feed for cattle and pigs. He knew that corn grew well, specially Indian corn, and soon he had about ten acres of it. The availability of corn made the raising of chicken an obvious choice. In the first years, husband and wife had agreed that they would try their hands at everything feasible, and then let experience dictate what future course of action to take. They readily consulted with John after it became clear that he was a sensible young fellow who had an instinctive reading of the situation. A year on, Cobjohn had been able to recruit three Irishmen from County Cork.
Captain Cobjohn disposed of a reasonable amount of cash, and he was going to invest some of it in Hereford cattle. He knew that some specimens had crossed the Atlantic as early as 1817, and that some breeders in Albany south of the waterway in America had been breeding them and might be willing to sell him a few to start his own cattle ranch. At first it would be a small affair, but he had every reason to believe that in time he would be the owner of a few thousand heads. Shortly after John arrived at Bonnyrig Cobjohn had written to William H. Sotham and Erastus Corning of Albany expressing an interest in their cattle.
When John was in Port Hope to greet Kitty, he had in fact only recently returned from New York where he had gone to talk to those two breeders. He had returned home to Oxenham, given an account of his New York trip to the captain, and on the next day, he had set out for Port Hope.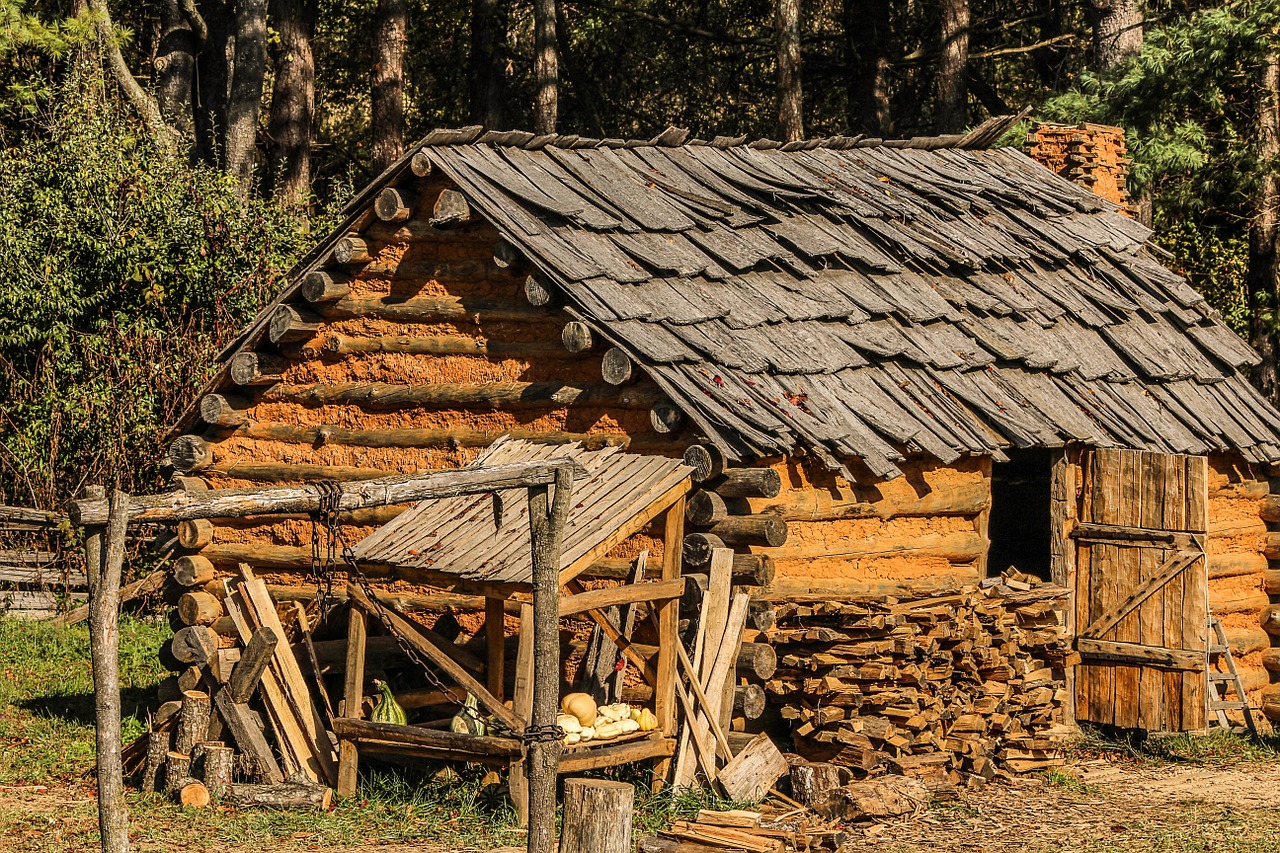 Photo Credit: CC0 JamesDeMers
When his sister arrived at the farm, she was very heartened by what she saw. John had his own log cabin which he had built from the existing one. He had added a couple of rooms and enlarged to make it more welcoming in the hope that Kitty might come join him. One room was destined for her, and he had already made plans for an extension for young John Robert. He invited Kitty to stay with him for as long as she liked, until either of them got married, or fed up with each other. Who'll have me, said Kitty, a woman who has gone astray?
She began writing a letter home telling them about the death of little John Robert, and then found that she could not go on. John had gone out early to work on the trenches, and as she was alone, she thought that it was best to have a really good cry, clearing for good all the miseries that she had endured, all the hardships her much loved parents had gone through, her lost lover, the cruel and preventable death of her baby. Work all my sadness out of my system, she thought, and make a fresh start in this new country. From what John had said, the future seemed promising, but when did things ever turn out as planned in this life?
Eleanore had welcomed the newcomer with open arms, and said that in the beginning, at least, she could work at Bonnyrig, as there was any number of openings for her there. The vegetable concern had been a big success from the beginning, and already they had found markets for their produce in Peterborough, Port Hope and Cobourg. The farm had soon become an important supplier of potatoes to the region, and in fact demand was so great that they were unable to keep up with it. Cobjohn had to clear more land and aimed at doubling the production within a year. Soon the cattle would be arriving from Albany. It seemed to be natural barley country, and the distillery in Brighton had indicated that they could easily handle three or four times their output. Kitty could pick and choose what she wanted to do. John said that the captain had asked if they had friends or relatives back home who might wish to come over.
Kitty was not averse to working in any capacity, but with her great love of books, she had always aspired to become a teacher. There was, however, no school in Oxenham, although Cobourg and Port Hope had one each and Peterborough was blessed with two. Unfortunately there were no vacancies in any of them.
She therefore accepted Cobjohn's offer. Would she like to help Eleanore with the paperwork and the accountancy? She agreed immediately, but fired by the lady's enthusiasm for working with her hands, she felt strongly tempted to have a go at that sort of thing too, and the enterprising couple were very happy with that. She was ready for work next morning. Her hostess gave her charge of accounts and correspondence, and she began dealing with the wholesalers in Peterborough and Amherst who took their crops, the Brighton Distillery Company which bought their barley. There were letters from the sawmill, urging Cobjohn to sell them more wood, from Albany about some minor problems relating to the shipment of the cattle. What she did not learn in the office, she would learn from John, who took great pride in the success of the company which he had helped build. Felicity joined them later and helped her with accounts. Kitty thought that she seemed very accomplished, and found her friendly and warm, but she did not feel entirely at ease with her. When twice in five minutes she mentioned John to her, she deduced, rightly, that she was enamoured of her brother, and she knew there and then, that class difference notwithstanding, no power on earth was going to stop them marrying. She found that Eleanore was an ideal co-worker. She combined sound business sense with a sympathetic attitude under all circumstances.
In the afternoon, the two women donned dungarees and went to work, stacking the timber. She was surprised to see Wahaitiya at work. The wiry old man looked so frail and yet had such strength. She liked his cheerful bearing and enjoyed talking to him. The work of the two women consisted in stripping the massive fir trunks from their cumbersome branches. These twigs would serve later for the burning stages of the clearing.
The first evening, brother and sister had eaten with the captain's family. They had a Cayuga cook, Jane, who Eleanore had trained in her ways, and she had roasted a loin of beef the like of which Kitty had never tasted before. Back in their cabin, Kitty teased her brother about Felicity.
'Miss Felicity was doing the accounts today,' she said tentatively. John raised his head and looked at her in the candlelight.
'She is too young,' he said.
'Sixteen is not that young,' she countered.
'Seventeen actually,' he replied with lightning speed. Yes, she said to herself, no power on earth is going to stop them. From what she had seen of the family, she surmised, with a dose of optimism that they would probably be forced to overlook John's lowly background. Physical work must be a great leveller, she thought. Back home, a rich man would hardly speak to a working man except to give him orders. No one could imagine people from the upper classes wielding a spade or an axe.
'And there is no need to call her Miss Felicity… nor Miss Eleanore,' he said, 'Mr Cobjohn has also said to call him Paul, but I think he likes being called Captain.'
'You like her, don't you?'
John ignored the question.
'I call him Captain when he is with other people, our clients or suppliers… otherwise, when there are just us, I call him Paul, he likes that.'
'I am afraid of him, I couldn't possibly call him Paul.'
'Kitty,' her brother said, looking at her intently, 'you are afraid of no one!' And he laughed a laugh which was an echo of a distant past, the sort of manifestation of joy only children remember how to produce; and each instinctively understood its magic, for in the blinking of an eye, they were in each other's arms, holding each other, tears of joy streaking down their cheeks, not even themselves, knowing why.
Although Kitty would have preferred to cook for the two of them, the Cobjohns said that would be a waste of time which could be put to better use. The two families continued to eat together. Seated at table for a roast goose that Jane had prepared that night, Felicity who was seated opposite John as usual, stole furtive looks at him, which only Kitty caught. The young girl was clearly dreading the end of a tradition that she wished continued forever, as the evening meal was the one occasion when she could see John to her heart's content. She was convinced that he reciprocated her feelings for him, but he had never said anything and usually avoided being alone with her. Why? She was eighteen… well in her eighteenth year… and many of her friends in Scotland were betrothed at seventeen, some of them married! She suspected that her brother might not like their association because of his lowly birth. She had hinted to Eleanore, whom she thought of as a no-nonsense sort of woman, about her feelings for the young Highlander, in the hope that she might give her approval and offer to talk to her husband, but she had been noncommittal. Still noncommittal was better than disapproving. Why would they object to John? He was an honest boy… eh… young man. He was as handsome as a Hussar, and he did not even need a uniform or plumes to achieve his bearing and deportment to make all the young ladies in the area swoon, except that there were very few around. If Bonnyrig was such a success, he deserved at least half the credit. There must be a reason why Paul wanted to keep the two families together, she reasoned out. It must be that he had understood where her inclinations lay, and was, in his own way, playing Cupid… yes, he is quite a romantic, my dear brother… But why did John have to hide his true feeling for her? Was he afraid that they might upset Paul? Would it upset him? She understood why he might not welcome such an attachment. She had never been too keen to encourage the lower classes to step out of line when she was a teenager in Stirlingshire. Papa who was very enlightened had said that the lower classes had to be dealt with fairness and judiciousness, whatever that meant, that excessive familiarity with them could cause confusion, and upset the natural balance between peoples of different breeding, which she had understood meant that it was best not to be too friendly with them. But that was a rule which had seemed normal for back there. This was a new country, people do things differently here. A man of high birth can often be seen sweating by the side of a rough coarse individual, doing some superhuman task together. Do the same rules need to apply? In any case, a boy of John's exceptional ability was surely going to end up a rich and powerful landowner himself some day, so why make a fuss? She must muster enough courage to corner him some day and challenge him to say that he did not love her.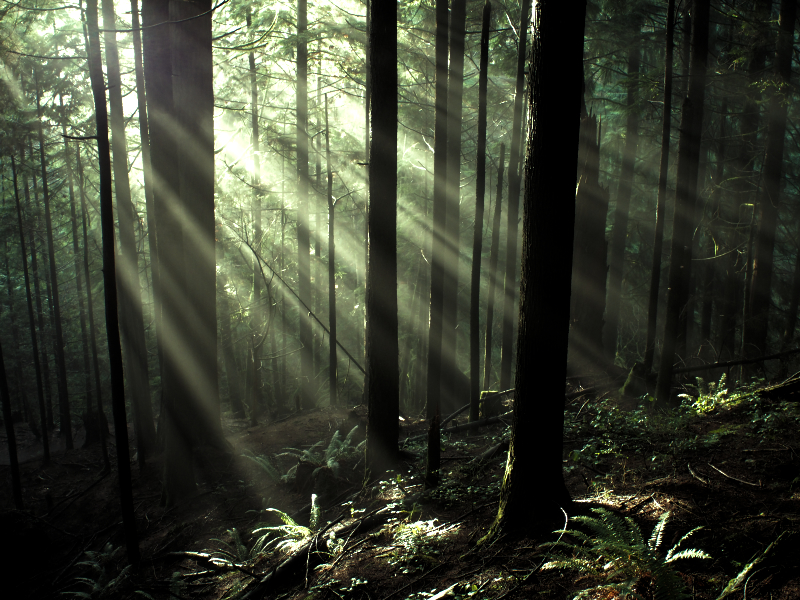 Photo Credit: CC-BY-SA Arnaud DG
Kitty was initially overawed by the surroundings, the never-ending expanse of forests. Everything made the Highland of her birth seem like a miniature of sorts. She would enjoy the new life, the friendliness, the good wholesome food. She was stunned when she heard that they were eating a goose, imagining that they only did that in fairy tales. She had never sat a table with a cloth on it, she could count on the fingers of one hand the number of times she had eaten meat without gristle and bones. The meat she had eaten was usually boiled to the point of disintegration. Conversation at table was new to her. Back home one ate in silence. I may speak differently to these well-bred ladies, but I have learnt my grammar and I know my vocabulary, and John is right, I am afraid of no one. Miss Eleanore… OK Eleanore… is a decent lady… woman. Paul is a bit stuffy, but well-meaning… he must be, to judge by how he treats Oor John! And the young princess seems besotted by him… and why shouldn't she be? Emily idolises him. In two years he will be able to buy his own land and in ten, he'd be a bigger farmer than the captain, he's so tireless. Ah there's John Smith, remember me? Aye… the owner of Bonnyrig… sure I remember you, Paul, how's things? Actually, Smith, things have not been too bright for me lately, old chap. I am sorry to hear that Cobjohn, but damned glad to see you, old chap, what can I do for you? I hate to ask, old chap, but I have a cash flow problem, I wonder —. But my dear fellow, I will be delighted to help, I just received a handsome payment for a consignment of wheat, how much did you need? Five hundred pounds, can you afford such a big sum? But my dear fellow, it will be a pleasure, I won't hear of anything less than a thousand. Kitty… Oh, my sister Kitty is the keeper of my funds. Kitty go get the captain here one thousand pounds. This reverie was brought to a sudden end by Jane. More soup Miss? Thank you, no thank you.
Kitty got used to the routine of life at Bonnyrig. She wore fine but simple frocks in the mornings and did accounts and wrote letters with Eleanore, and sometimes Felicity. The three women worked harmoniously together. In the afternoon, they underwent their transformation and became carpenters, loggers or trench diggers. Kitty felt so healthy that sometimes it was as if she could feel the blood coursing in her veins, irrigating her whole body… if that was what blood did.
Kitty had spotted Kit, the young Irish hand since the first day, and thought that he was a rather pleasant young fellow, if a bit callow and clumsy. He loved to banter although he was not much good at it. She had noticed him leering at her, no doubt egged on by his two other compatriots, Mike and Sean, and when he approached her one afternoon, and said, 'Ach, Kitty, I, eh… I mean you… eh…' she had laughed and answered, 'You lust after me, isn't that right, Kit Mahoney?' She had no idea that she had said this. Kit had begun to protest, and had turned his back to beat a hasty retreat.
'I don't bite,' she had said laughingly. Kit had turned back incredulously.
'You mean… eh…'
'I mean, if you were going to invite me for a walk in the forest, I am not afraid of bears.'
She had been celibate for too long. During that miserable crossing, she had found that one way of coping with her pain and misery was to close her eyes and imagine that her fingers were Rob Rob's and thus soothe herself to sleep. The other women could not know what she was doing, or maybe they too, poor souls were trying to revive dead memories. Since arriving in Oxenham, she had felt deprived. She was a full-blooded woman with normal needs and she knew that she needed a man, and she was not one to beat about the bush. This fellow Kit was desirable enough, and if he wanted a bit of comfort, why she was going to give it to him. It was thus that she and Kit started their fling. It did not take the poor lad long before he said he wanted to marry her. No, she was not after a husband, she had a man somewhere, he had been temporarily misplaced, but he will come for her some day. Till a' the seas gang dry… Kit had not seemed heart-broken, when she started disappearing into the woods with Mike. She then thought that it would be mean to Sean if he was left out. She did not ask for romance, and for a time the three Irish lads took turns to satisfy her needs. Brother John found out, was not very happy about it, but thought that he had no right to put his nose in her business.
John decided that a line was to be drawn when Kitty started disappearing into the wilds with Mark, Dan Wahaitiya's son, and he thought he should remind her of some house rules. Kitty was surprised and disappointed, for she had assumed that he would have taken a different view, since she had seen him treat the Ojibwas and Cayugas with courtesy and friendliness.
He had been silent all evening, and Kitty knew what this was all about.
'John, if you have something to say to me, you had better say it now, before I go to bed.' John knew his sister's forthright ways and took a deep breath to collect his thoughts. He nodded and indicated a chair. She sat down.
'I don't know how to put this…'
'How about, Kitty, I don't like you having an Ojibwa lover…'
'Oh Kitty, how can you? I am not a… what do you call it, an Indian-hater… it has nothing to do with… different races…'
'He is a Christian… and tell me since when have you become such a defender of the Christian faith anyway?'
'No, it's not that…' But John was unable to make sense, he muttered incoherent words, and his sister knew that he was not clear in his mind what he disliked about the association. John had known about the Irish lads, and so clearly it was not her virtue that he was worried about. Suddenly the truth hit her.
'John, tell me honestly, do you think that if I associate with Wahaitiya's son, it will compromise your… I mean you and Felicity? Is that it?'
'Felicity has nothing to do with this,' he said in what was the nearest he had ever shouted at her since the time when they were bickering children. Kitty did not believe him.
'You're right, lassie,' he said in a whisper, but mumbled something indistinct about their low birth. Kitty nodded.
'John, if that's an impediment to your happiness, I will stop seeing Mark. I'll even give you my word.'
'You would do that for me?'
'Look, between me and Mark, it is different from what happened before… I believe he is the man who can make me stop pining for eh… the impossible, but yes, for my little brother, I will, it's a promise.'
For some time, the captain had been contemplating building a chapel on his land, as he felt that Christianity had to be developed in parallel with the resources of the land, specially as an uncle had died in Stirlingshire leaving him with a few thousand pounds. To this effect he had invited the Reverend Tom MacNeill vicar of St John's in Peterborough, his wife Hannah and their twins Gordon and Leah over for a couple of days. It was the first time the family would have visitors staying with them, as they now had the facility, the new extension having just been completed.
Kitty and Hannah who had also been through the ignominies of the clearance immediately warmed up to each other. She combined her work as mother and pastor's wife with running a small school, and had half joking suggested that if Kitty was prepared to take starvation wages, the church might find a way of employing her. Tom had pointed out that the Bishop in Toronto had advertised for a teacher, both in Scotland and in Toronto, so she had better be quick if she wanted to take up the offer. Gordon and Leah seemed to adore her, and they played all sorts of running and skipping games together. Father MacNeill seemed a straightforward and honest person. Having been been under the influence of Grand Mam, she knew that she had better not show her cards and decided that the best thing when it came to religion was to go along with it for the time being, and reconsider her position when she would have the leisure and the freedom to think things over.
When the MacNeills left, the twins made her promise that she would come for a visit soon. She had approached the man of the cloth, and asked him if she might become a teacher at St John's, in the light of having been an unmarried mother. He would never contemplate encouraging her to leave what was obviously a sound position here at Bonnyrig, he had said. She thought that it was his way of saying no. But on the morning of their departure, he approached her and asked if she was serious about coming to Peterborough. She had no doubt that it was dear Hannah who had changed his mind for him. She replied that she was, but would need to talk to John and to Eleanore. Well, make up your mind, and if when I get back I find that the Bishop in Toronto has not sent me someone, I'll get back to you.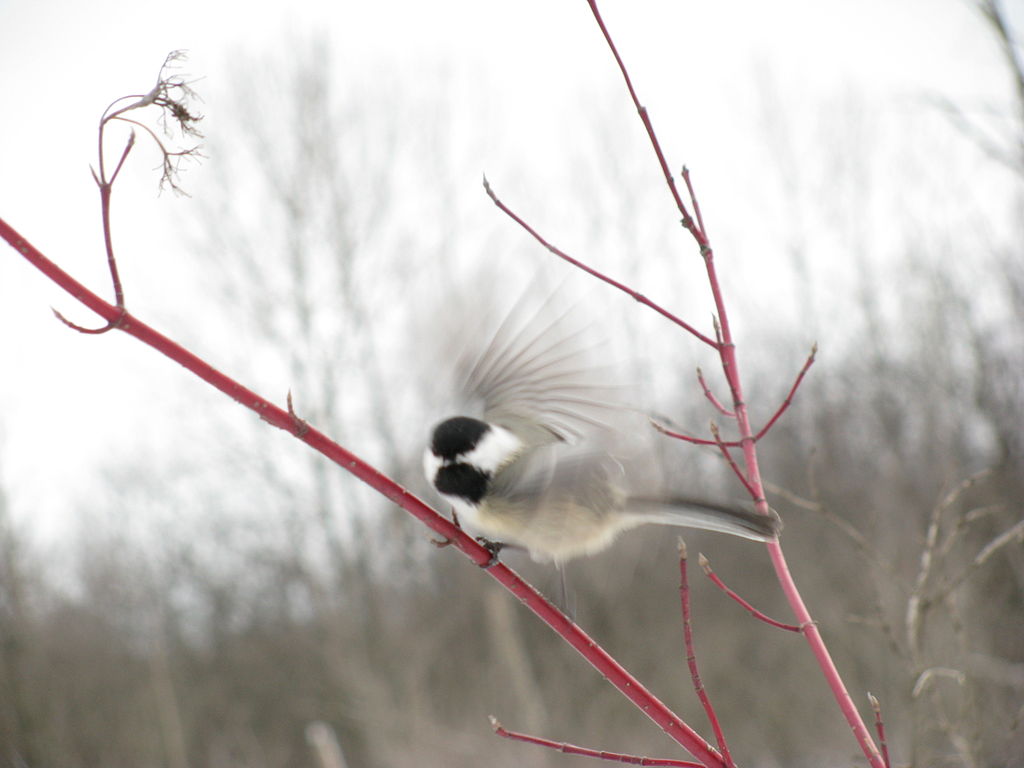 Photo Credit: CC-BY-SA Fungus Guy
Ever since the visitors went back to Peterborough, she had started giving serious consideration to going there and taking that teaching post. That would at least solve a few problems. In any case she had never expected to spend the rest of her life working with her hands, tilling the soil and heaving heavy loads, she was born to teach.
Next morning, she walked straight towards Mark's wigwam, where she had so often laid with him in the past. He beamed with pleasure.
'I often wish you can come in the morning, when I am very manly.' He tried to grab her, but she resisted. He noticed her sullen demeanour.
'Mark, I am sorry, but you and I… we must stop.'
'Why?' he asked, half hoping that she was playing some game with him. You never know with white folks.
'We just have to, I am going to move to Peterborough.' And she had turned her back on him, in an attempt to rush out, but he grabbed her arm, and she suddenly had an irresistible urge to have him one last time, so she yielded, and she experienced an orgasm which was the nearest she had ever had to an out of body experience. Mark thought that the cloud had passed, and let her go. She went on her way, promising herself that that was the last time.
'I won't let you,' said Mark almost tearfully, 'never!'
She was full of confusion. One moment she was absolutely convinced that there was no better solution than to go to Peterborough, but the next she admitted to herself that she was addicted to him like she had heard only recently about people becoming addicted to opium.
In the office, Eleanore noticed that she seemed distant and edgy and asked what the matter was.
'Tell me, Eleanore dear, I think we all know that Felicity and John are attracted to each other —'
'Yes, I think we can safely say that.'
'Do you have any objection to John?' Eleanore laughed.
'No, of course not,' she replied without thinking. Clearly she had given the matter some thought, in order to have such a ready answer, 'Why do you ask?'.
'The captain? What does he think?'
'I am not sure, Kitty, you know what men are like, they do not like to take advice from women, he has never said anything clearly, but I think, from certain signs, the way he looks at John, the way he talks to Felicity, that he knows about them and does not disapprove. But I am only guessing.'
Kitty had not finished, she had not yet started, when Felicity walked in at that moment, a good hour earlier than she was expected, explaining that she had lost her patience with the composition she had been writing for Paul, who acted as her tutor.
In the afternoon, Kitty found Eleanore taking a short rest, and broached the subject again.
'Eleanore, can I trust you?' Of course she could.
'Is the captain… likely to be… to object to John, if his sister was misbehaving?'
'Since you ask, I think Paul, like everybody else, knows that you are not an angel. Pamelas only exist in the imagination of the likes of Mr Richardson's. We know you lost your baby in the crossing… you are a normal woman… we're not living in the Middle Ages, this is the nineteenth century, gel.'
'Everybody knows?' Kitty was taken aback. Although she had been very open about her association with the Irish boys, instinctively she had known that with Mark, it was a different situation, and had taken extra care when meeting him, something that Mark, who had witnessed lynchings of Blacks and Indians readily agreed to.
'And he doesn't mind?'
'In spite of appearances, he is no prude… and we do live on a farm where he sees what the goats and chickens get up to.'
'Doesn't he mind that Mark is not a white man?'
'What? Who the hell is Mark? Surely you don't mean that Ojibwa fellow?' Kitty said nothing. Suddenly Eleanore burst out laughing.
'The Ojibwa fellow! Well I never! You are a crafty one… and I must say I think he is the handsomest man in the whole of Ontario! Such muscles, such bearing… such a nose… aquiline, I think they call it… and what a tan!'
'Are you saying that's not a problem?' There was no immediate answer.
'No. I am saying that I do not find anything wrong in it myself, but I have no idea what my dear spouse thinks.'
'You think that if he finds out about my liaison with a… eh… native he will not sanction a union between —'
'I really don't know… I… eh… think that may well be his position,' was the glum reply, 'men are so… unreasonable.'
'That's what I thought… I have already told Mark that we shouldn't see each other again…'
'You mean you put John's interest above your own?'
'It's not as you're implying. I am no saint or heroine from some book, it's just that I have no right to compromise my little brother's chance of happiness.'
'Oh, Kitty, you're such a dear wonderful person.' Kitty suddenly had an idea.
'What would you say if I told you that I am thinking of moving to Peterborough if Father MacNeill will have me.'
'Oh, as a teacher? Excellent idea,' adding sadly, 'but we will miss you.'
'You mean you really did not know about me and Mark?' Kitty asked after a moment of silence.
'No, I swear I didn't know a thing.'
'What was that thing about which you knew nothing?' asked Felicity, whom neither woman had seen or heard coming in.
'Since it's something I knew nothing about, it would be a waste of time talking about it, wouldn't you say?' replied the older woman. Felicity pulled her tongue out at her playfully. I could learn a thing or two from that woman, thought Kitty, even if I could teach her to spell.
As the two older women were unable to talk privately, they listened to the young girl complaining about the sort of things her brother expected her to learn.
'Il m'eût plu plus s'il eût plu plus! Stupid Subjunctive verbs… When might I need to use that,' said the young girl almost tearfully, 'anyway I hate rain.'
But Kitty was not listening. If for weeks nobody had discovered what was going on in Mark's wigwam, why wouldn't it be possible to carry on as before? She loved this young brave, who knows where Rob Rob is? He was so young and helpless, how could he have resisted the schemes and plots hatched by his godmother the Duchess and his powerful father, without her help. Be realistic, woman, she told herself, the Rob Rob chapter is closed. For weeks and months her tale had evolved like in those penny serials, with something new happening in every new instalment. Now the author had written THE END at the bottom, and not TO BE CONTINUED. Nobody can change the plot. The seas have gang dry! All one can do is to wait for the start of the next new serial. And it had better be a good one, with a nice happy ending.
---